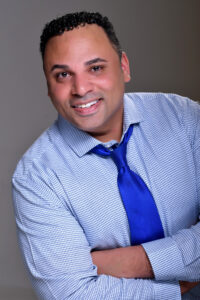 Hi!
Thanks so much for checking out my site.
I love the news, television, and serving our communities by digging for the truth and giving people accurate information about events and issues. It's so, they can make informed decisions. I'm a big fan of the quote from human rights activist Ella Baker: "Give light and the people will find the way."
I'm an Emmy Award-winning news anchor. I love taking viewers through breaking news and field anchoring. As a proven ratings-getter, I've been blessed to have worked with fantastic producers and love working together to craft an informative, energetic, rockin' newscast. On the road, I've covered hurricanes and presidential campaigns; and especially enjoy producing in-depth reports. My career in journalism started at The University of Maryland at College Park.
To pay my way through college, I worked as a news aide for The Washington Post, and as a production assistant for WTTG-TV in Washington, D.C.
I've worked for television stations in Dayton, Cleveland, Raleigh, Houston, Orlando, Washington, D.C. and Atlanta.
Community involvement is very important to me. I serve on the volunteer board of CAPN Clinics, a charity of medical professionals who provide free care to people who are homeless and families in crisis in Atlanta.
I've been an after-school tutor for disadvantaged students in D.C., a career day speaker for numerous middle schools and high schools; and an instructor for college students for the NABJ Broadcast Short Course at North Carolina A&T State University. Right now, I also mentor several college journalism students and young professional journalists.
I'm proud of my work in Houston and in Cleveland, hosting a series of reports on adoption; helping to move kids from foster care, to permanent loving homes.
I've been featured in newscaster roles for the TBS comedy series "Miracle Workers", the HBO series "The Outsider", The Oprah Winfrey Network's "Greenleaf", "Queen Sugar"; also movies "Brightburn" and "Shaft." I received my first role, thanks to the encouragement of ATL casting directors Chase Paris and Tara Feldstein Bennett.
Journalism isn't my only professional passion, I've also earned real estate licenses from Maryland, the Commonwealth of Virginia, and the District of Columbia.
If you get a minute, please send me a message with a great story idea, speaking engagement request, or feel free to just say hello.
Thanks again, and I hope you enjoy mikedunston.com
All the best,